Volunteer as an Item Writer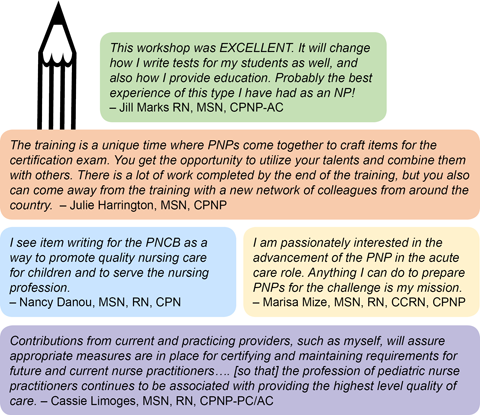 Thank you for your interest in PNCB's next workshop, September 7-8, 2017! Share your expertise and make a difference for the profession with this rewarding experience.
Requirements
Work at least 20 clinical practice hours per week related to the credential you hold
Write 2 items to apply
Get selected (based on geographic and practice diversity and ability to apply basic item writing concepts)
Attend PNCB's 2-day workshop September 7-8, 2017
Write 8-10 items at the workshop and 20 more items during your 18 months of service (it usually takes less than 1 hour per item)
Benefits
Contact hours awarded annually for each assignment meeting the standard
Resume enhancement
Rewarding collaboration
Expert mentoring
Writing skills development
Letter of Recognition to your employer, by request
Potential to join other PNCB committees
Making a difference by supporting the profession
Plus PNCB pays your workshop travel, hotel, and meal expenses. If traveling by air or rail, you pay no out of pocket cost because we prepay your ticket. Hotel shuttle service makes it easy to get to and from the airport. Meals offered during workshop hours are included. Car travel and meals outside of workshop hours for the 2 days are reimbursed per PNCB policy.
Follow these steps to apply
If selected, you'll participate in the 2-day workshop in the Baltimore area on September 7-8, 2017, earn CE, and engage with enthusiastic content experts across the U.S. Selected applicants will be notified by June 1st.
Step 1: Learn the basics and earn free CE: Complete our Item Writing 101 Module.
Step 2: Write 2 items using your certification's content outline and reference list below. Be sure to note a citation for each item. We encourage you to use this infographic and manual to support your writing.
Step 3: Apply: This opportunity is currently closed.
On the fence?
Email volunteer@pncb.org with any questions so we can help. We look forward to your application!