Exams Overview
PNCB certifications empower nursing professionals to practice confidently with every child and adolescent in their care. 
Children and teens aren't little adults. They need expert clinicians in hospitals, schools, pediatric practices, specialty clinics, home health care, or any other setting where youth physical and emotional well-being needs support. Nurses must understand how children develop and thrive to help them achieve the best life possible, now and in the future.  
PNCB offers 4 types of certification exams to assess the knowledge and critical thinking of pediatric nursing professionals. More than 50,000 actively certified nurses rely on their PNCB credentials to prove they've met the highest standard in the unique specialty of pediatrics. 
As a nurse, you want to be at your peak when practicing. As a pediatric nurse, you're passionate about making a meaningful impact on child health. Make it official with PNCB certification. 
Explore exam and certification statistics, then find your fit with our certification programs. PNCB also offers more than 100 hours of pediatric-focused continuing education, open to all.
PNCB exams are recognized and endorsed by the American Academy of Pediatrics (AAP), the Society of Pediatric Nurses (SPN), the Association of Faculties of Pediatric Nurse Practitioners (AFPNP) and the National Association of Pediatric Nurse Practitioners (NAPNAP).
All PNCB exams are approved by the Department of Veterans Affairs (VA). Veterans can now be reimbursed for the cost of their exam. For more information, call 1-888-GI Bill (442-4551) or visit the VA website.
Exam Accreditation
PNCB's Certified Pediatric Nurse (CPN) and Certified Pediatric Nurse Practitioner (CPNP) programs have met the rigorous national accreditation standards of the National Commission for Certifying Agencies (NCCA). The NCCA is the designated Accreditation Council of the Institute for Credentialing Excellence (ICE).

Initially granted in 1996, PNCB accreditation is evaluated every five years. Our CPN and CPNP (Primary Care and Acute Care) programs are accredited by the NCCA through 2027. Our Pediatric Primary Care Mental Health Speciality (PMHS) program earned NCCA accredition in 2022 and is accredited through 2027.

PNCB certification programs are recognized by the National Council of State Boards of Nursing (NCSBN) and individual state boards of nursing. PNCB is also a member of the American Board of Nursing Specialties (ABNS).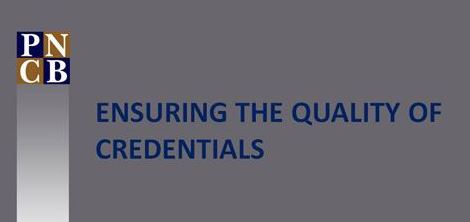 Learn what accreditation means for employers, certificants, and the public.
Download this File