CPN Exam Resources
The Certified Pediatric Nurse exam is 3 hours and asks 175 multiple-choice questions based on categories in the content outline, an essential study reference. Create a personal study plan and prepare using the resources below.
The PNCB Board of Directors does not endorse the content of or approve specific training programs, study guides, review courses, or other examination preparation products. Purchase of preparatory materials for PNCB certification examinations are not required and do not guarantee a passing score on the examinations.
Use this step-by-step checklist to help you plan and prepare for your exam.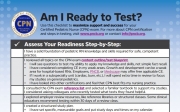 The content outline/test blueprint is your #1 tool to start your study. It describes all subject areas covered by the exam and questions per category.
PNCB certification exams are comprehensive tests, so be sure to study all areas of the content outline.
Tip! This exam tests your ability to apply knowledge and use critical thinking skills to determine one best answer among answer choices.
The current content outline is based our 2021-2022 Job Task Analysis research. This routine, required research ensures that exam content accurately represents current pediatric RN practice in the U.S.
Content for the updated exam has not changed considerably, and you do not need to study differently. After the JTA, a passing point determination follows construction of new exam forms and establishes minimum passing scores using standard psychometric methods, such as Item Response Theory and modified-Angoff scoring. Learn more about the exam form development process. 
See full details about the latest 2021-2022 study in our executive summary of highlights and 2021-22 CPN Exam PowerPoint.
PNCB recommends you use ONE pediatric nursing textbook that you are familiar with to review for the exam. This text should also focus on the subject areas covered by the CPN exam content outline.
You do not need to study all the references listed below. Other candidates have found the most current edition of the following references useful for their review. PNCB does not endorse nor have any proprietary relationship with any of the following textbooks or their publishing companies.
For Basic Pediatric Nursing Content:
Wong's Essentials of Pediatric Nursing
By Marilyn J. Hockenberry and David Wilson

Wong's Nursing Care of Infants and Children
By Marilyn J. Hockenberry and David Wilson

Child Health Nursing: Partnering with Children and Families
By J. W. Ball, R. C. Binder and K. J. Cowen

Essentials of Pediatric Nursing
By T. Kyle and S. Carman

Pediatric Physical Examination: An Illustrated Handbook
By K. Duderstadt

Principles of Pediatric Nursing: Caring for Children
By J. W. Ball, R. C. Binder and K. J. Cowen
Neinstein's Adolescent and Young Adult Health Care: A Practical Guide
By Lawrence S. Neinstein, Debra K Katzman, Todd Callahan, Catherine M. Gordon, et al
Leadership and Nursing Care Management
By Diane Huber

For Structuring a CPN Review Course/Independent Study:

Lippincott Review: Pediatric Nursing
By Mary E. Muscari
Publisher: Lippincott Williams & Wilkins

Pediatric Nursing Certification Review
By Janice Selekman and Louise Jakubik
Publisher: Society of Pediatric Nurses (www.pedsnurses.org)

Straight A's in Pediatric Nursing
By Springhouse 
Publisher: Lippincott Williams & Wilkins

For Pediatric Nursing Procedures:

Clinical Skills Manual: For Maternity and Pediatric Nursing
By R. C. Bindler, J. W. Ball, M. L. London, M. R. Davidson

For Pediatric Medications:

Pediatric & Neonatal Dosage Handbook

For Anticipatory Guidance/Developmental Focus:

Bright Futures: Guidelines for Health Supervision of Infants, Children in Maternal & Child Health and Adolescents
Edited by Joseph F. Hagan Jr., Judith S. Shaw and Paula Duncan
CPN Practice Tests offer in-depth rationale for right answers to enhance critical thinking. Score reports can help you focus studies.
Three out of four CPN Practice Test users would recommend it to a colleague planning to test, and 85% say CPN Practice Tests will be useful in their practice.
The cost is $35 per module. You receive unlimited attempts of 50 questions for 150 days.
Looking for more exposure to CPN exam topics?  PNCB also offers a CPN practice test drill containing 100 multiple-choice questions (answers only, no rationales). The cost is $50.
PNCB's Test-taking Strategies resource is a free PowerPoint developed to help you learn exam preparation tips, strategies for answering multiple-choice exam questions, and techniques to manage test anxiety. Not a study or a review course.
Other possible preparation support from third parties that are well-respected in the pediatric nursing community are listed here.
PNCB does not provide its own review course for the CPN exam as this would be a conflict of interest.
What review course should I take? Which books are the best? Do you offer a review course?

We hear these questions often and can't conduct an actual review course because this would be a conflict of interest. We also can't endorse a specific review course or book, but we do recommend you consider the following when selecting a course or title:
How are the instructors or authors prepared? Do they have rigorous academic credentials? Do they hold the credential you seek? What about their practice experience?
Are the topics covered consistent with the exam's content outline?
Do the books offer practice questions after each chapter?
Does the course offer testimonials? If so, evaluate the comments offered by your peers.
Does the review course ask for feedback? Do they post survey results on their website?
Talk to others who have taken a specific review course. Were they satisfied?
You may also want to check your membership organization website for books that are recommended. We hope this gives you an idea of things to look for as you make your decisions.
Sample Questions
1. Which of the following developmental tasks is observed in the MAJORITY of toddlers who are 18 months of age?
2. For a typically developing 12 year old child who is dying, which of the following actions BEST meets an age-specific need?
3. In an adolescent with protracted vomiting, which of the following assessments is an EARLY indicator of dehydration?
4. Which of the following anticipatory guidance is the MOST appropriate regarding television and media viewing for young children?
5. For a child in acute renal failure with a potassium level of 8 mEq/L, the MOST immediate concern is the risk for:
Answers and References:
1. Answer: B
Reference:
2. Answer: C
References:
Kyle, T. & Carman, S. (2021). Essentials of pediatric nursing (4th ed.). Wolters Kluwer.
3. Answer: B
References:
Hockenberry, M. J., Rodgers, C. C., Wilson, D. (2022). Wong's essentials of pediatric nursing (11th ed.). Elsevier Mosby.
4. Answer: B
References:
Hockenberry, M. J., Rodgers, C. C., Wilson, D. (2022). Wong's essentials of pediatric nursing (11th ed.). Elsevier Mosby.
Hagan, J. F., Shaw, J. S., Duncan, P. M. (Eds.). (2017). Bright futures: Guidelines pocket guide (4th ed.). American Academy of Pediatrics.
5. Answer: A
References:
Hockenberry, M. J., Rodgers, C. C., Wilson, D. (2022). Wong's essentials of pediatric nursing (11th ed.). Elsevier Mosby.
Cowen K. J., Wisely, L. M., Dawson, R. M., Ball, J. W., & McGillis Bindler, R. C. (2023). Principles of pediatric nursing: Caring for children (8th ed.). Pearson.