Volunteer with PNCB
More than 500 certified pediatric nursing professionals volunteer their time, expertise, and enthusiasm for our programs!
See current and future opportunities to get involved below. Check back often and watch your inbox for volunteer calls or share your interest in volunteering in this brief online form. Volunteers are valued at PNCB!
Become a CPN Champion
Apply Now! Are you a Certified Pediatric Nurse (CPN) who encourages colleagues to seek certification? Apply to become a CPN Champion and receive special gear, materials, and a recertification benefit.
For more information, see the Fact Sheet. For questions about this program, email volunteer@pncb.org. Ready to apply? Submit your application.
Is a Champion already at your workplace? Send us a message to find out. Large employers (500+ eligible RNs) can have a maximum of 5 Champions on staff.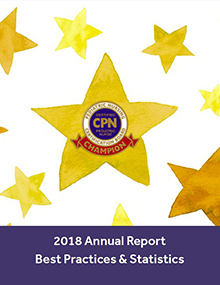 2018 CPN Champion Annual Report
Download this File